We know quality fresh produce is important to you, so our family-run farms promise to always squeeze naturally healthy juice with all the goodness left in the bottle. It doesn't get any fresher than Grove.
Our passionate network of growers understands the importance of quality fruit. Still, we also know what it takes to maintain a sustainable and environmentally conscious farm – because we have our own. We have purpose-built farms in Northern NSW to help provide a longer window for seasonal fruit. Moree is one of the best places in the world to grow citrus fruit due to the rich alluvial soils, optimum temperature bands, and access to water. All our farms benefit from world-class technology and innovation in growing, harvesting and water management practices. So, our investment in high-quality fruit is an investment in sustainable farming, which is ultimately an investment in the future.
We are extremely proud of our network of expert growers and are privileged to work alongside them to ensure all our fruit is sourced from local, regional farms in Australia. Not only does this mean we have access to the highest quality fruit, delivering the best tasting juice, it also supports regional Australia and plays a significant role in providing sustainable returns for our growers and their local economies.
For over 50 years, we've perfected our juice range to bring you the very freshest juice. As one of Australia's largest local fresh juice companies, we take pride in our products and environmentally focused farming methods.
From farm to table, every single piece of fruit is picked and squeezed right here in Australia.

Grove Juice is made from 100% natural fruit juice; there is no added sugar or preservatives. Fruit juice is naturally sweet and nutritious, delivering a range of vitamins, minerals and antioxidants. Including fruit juice with no added sugar can help you achieve your daily fruit serves.
According to the Australian Dietary Guidelines, a 125ml glass of juice can count as an occasional alternative to 150g serving of fruit. 
We aim to provide quality fresh juice, every day, all year round.
Producing naturally healthy and delicious juice since 1969, over time our process may have changed, but our passion for great juice certainly hasn't. The freshest juice from farm to table – Grove is 100% Australian owned and grown.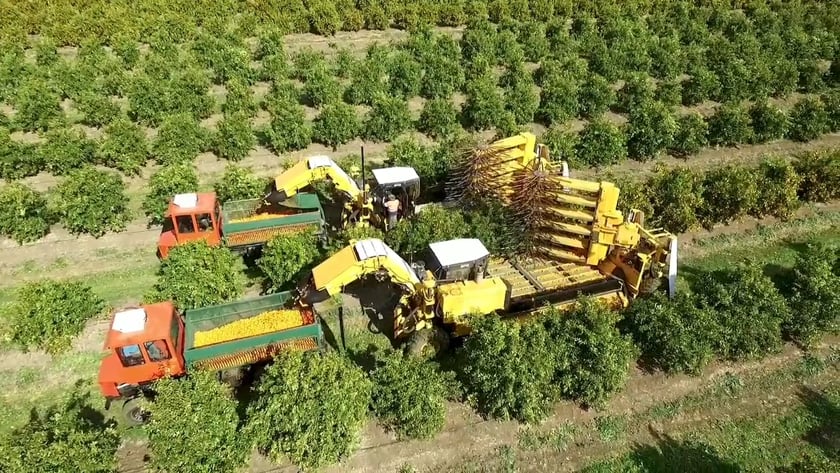 Added sugar and preservatives
Average weight of an orange
Our commitment to quality borders on obsession. Every batch of juice is tasted and tested in our lab to ensure each blend meets our stringent quality specifications. Our passion is also backed up by a number of significant accreditations, including:
Codex Alimentarius – HACCP
SQF Food Safety Code for Manufacturing
Our changing environment has led us on a crusade to find a better way to help secure our future
Over the last 15 years, Australia has experienced less autumn rainfall – and most likely less spring rainfall, as well. Average minimum temperatures have increased, and winters have been compressed. All this has prompted us to embrace a circular economy that continuously explores ways to increase and optimise sustainable practices. Even though there are many hurdles outside our control, we are committed to reducing plastics while embracing better water management systems.
We are also committed to improving the environment in which we operate by continually planting more citrus trees, with over 260 hectares already planted. We have a goal to have over 500,000 trees planted over the next 10 years. Our reason for this is simple: We believe the natural environment is too important to take for granted.
Oranges
Grove Signature Orange Juice truly is sunshine in a bottle! Our wide variety of Australian oranges ensures delicious premium orange juice – all year round. A renowned source of vitamin C, OJ also provides essential vitamins and minerals such as potassium, folate, and thiamine.

Hamlin, Salustiana, Midnight, Delta, Benyenda & Keenan
Apples
Grove Signature Cloudy Apple Juice is cold-pressed using a range of apples picked from our lush groves based in Victoria, New South Wales and Queensland's Granite Belt region. Apple juice supports hydration and contains potassium and vitamin C.

Pink Lady, Royal Gala, Granny Smith, Red Delicious, Sundowner, Fuji
Mandarins
Sourced from sunny Queensland and NSW Southern regions, our Mandarin Juice is refreshingly sweet, high in Vitamin C and very tasty! Mandarins contain dietary fibre, nutrients and minerals such as potassium and manganese.

Imperial & Afourer
Lemons & Limes
Grove lemons and limes are sourced throughout sunny Queensland. Our lemons are full of vitamins, minerals, phytonutrients and antioxidants. They are especially good sources of vitamin C and folate. Limes also contain small amounts of riboflavin, niacin, folate, phosphorus, and magnesium. They also contain small amounts of iron, calcium, vitamin B6, thiamine, potassium, and more.

Tahitian Limes, Meyer Lemons & Lisbon Lemons